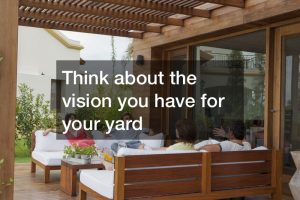 Your backyard is a precious part of your home and an important asset to your home's value. When it's done right, your yard can be a place for your family to gather and build beautiful memories. But don't worry, a beautiful backyard doesn't have to cost you thousands of dollars in fancy extras. It just requires some basic maintenance and upkeep.
First, think about the vision you have for your yard.
What kind of activities do you and your family enjoy? What will you mainly use this space for? Will you host fancy, elaborate dinners or will you have more laidback barbecues? Will your patio be a place for wining and dining, or will it mostly be a platform on which your kids will run and play? All of these are important questions to ask as you brainstorm ideas for your dream patio.
Gather inspiration from design magazines and websites. Start to get a feel for what you want your dream backyard to look like and what function it will serve. and don't forget to get lots of input from your family! After all, this is a space you will all enjoy together.